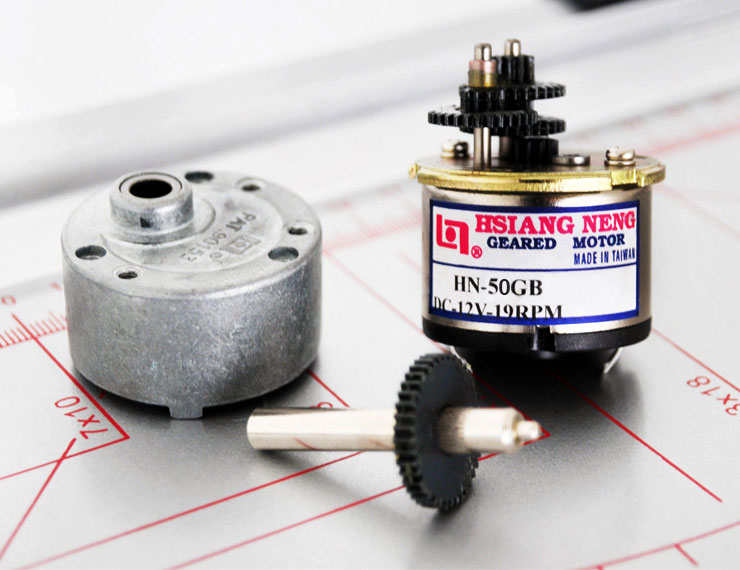 Middle Size Φ 50mm Dia. Spur Gearbox Series
DC Motor Spur Gear Speed Reducer Type, Round Spur Gearbox
HN50GM gearbox series can be efficiency matched with the HSINEN DC gear motor series. In addition, we also offer a variety of outer diameters, such as 27mm, 30mm, 35mm, 50mm gear reducer and DC gear motor to correspond to a variety of mechanical equipment, the DC gear motor output performance can be customized according to customer requirements, such as DC gear motor outer diameter size, torque, output shaft, motor gear ratio, meanwhile, Hsiang Neng has a variety of output shaft direction gearbox can choose such as worm gear, helical, bevel, double shaft, we can help you to solve the special DC gear motor needs of diversity output directions and space constraints.
---
Different combination gear sets can effectively reduce the output speed and increase the DC gear motor output torque, thus obtaining greater torque. Hsiang Neng helps you meet the requirements of DC gear motor and make your dream product come true. Do not hesitate to contact us.
RATIO
7.7
25.3
83.5
275.5
DIM "L1"
35
35
35
35
DIM "L2"
22
22
22
22
DIM "L3"
14
14
14
14
EFF
80
70
60
50
Allowable Torque
(kg-cm)
2
5
10
15
Customer Service
Any about DC motor technical issue, please call us: +886-4-8350536
More Details
Middle Size Φ 50mm Dia. Spur Gearbox Series Supply | HSINEN
Based in Taiwan, Hsiang Neng DC Micro Motor Manufacturing Corporation is a Middle Size Φ 50mm Dia. Spur Gearbox Series manufacturer who's an expert in providing gearboxes (motor speed reducer) and DC motors since 1987.
Low noise, high torque, long life and high-speed with certifications from CCC, ROHS, CE, and UL, HSINEN's DC geared motors meet international safety standards. DC motors and gear motors are built with imported apparatus and machinery, and the semi-automated production ensures the products are stable and high quality.
HSINEN has been offering customers high quality DC motors and gear motors, both with advanced technology and 33 years of experience, HSINEN ensures each customer's demands are met.