High Torque Flat Gearbox 66.5mm x 53.6mm with 6V - 24V DC 34.5mm Gear Motor
HN50GWD-HN345
Flat Spur Speed Reducer, Drive Gear Motor, 90 Degree Gearbox , Flat Gearbox Motor
DC geared motor type Hsiang Neng HN50GWD-HN345 is flat spur shaped special gearbox in 66.5mm x 53.6mm OD, it can use with 34.5mm DC motor series. The voltage range of this product is 6V, 12V, 24V, the 90 degree gearbox maximum output torque is 6kg-cm, the reduction gearbox can be customized, different speeds, torque to meet application requirements, high durability, high performance, high precision, high starting torque, low failure rate, small size, easy assembly and disassembly.
DC geared motors are widely used in automatic soap dispenser, electric bicycles, vending machines, currency exchange equipment, game machines, medical equipment, teaching equipment, beverage sealing machines, sweepers, grabber machine motor, coffee machines, electronic smart locks, shredders, and electric curtains. , safety equipment, small automation equipment, and other products, HSINEN electric DC motor can customize all kinds of steering, torque, voltage, output shaft and other parameters to meet your product application.

Hsiang Neng has a wide selection of gearboxes for shaft and motor gear types, such as planetary gears, worm gears, helical gears, bevel gears, and dual shafts. We assist you to solve various industrial special direction requirements and space constraints. In addition. Don't hesitate to contact us immediately to make your dream product come true.
Features
Output Shaft: Eccentric / Central Shaft
Spin Direction: Bi-Direction
Carbon Brush Motor.
Magnet: Rubber Magnet
Flat Spur Gearbox Type.
High Torque, Low Energy Consumption, Low Noise, Small Vibration.
Professional DC flat gearboxes customization at various RPM, torques, voltages, shafts, OD, etc.
Specification
Operating Voltage Range: DC 6V ~ 12V
Flat Gearbox OD: φ 66.5mm x φ 53.6mm
DC Motor OD: φ 35mm
Allowable Torque: 6kg-cm
Motor Drawing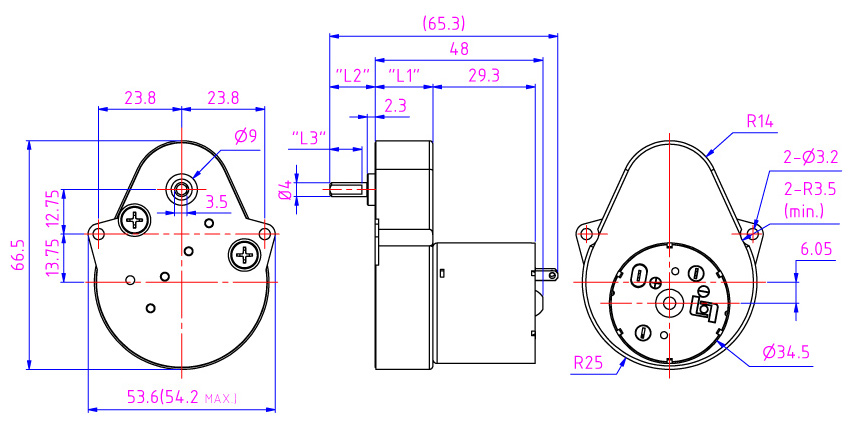 Motors Test List
RATIO
150
166.7
270
300
DIM "L1"
16.5
16.5
16.5
16.5
DIM "L2"
13
13
13
13
DIM "L3"
9.2
9.2
9.2
9.2
EFF
60
60
60
60
Allowable Torque
(kg-cm)
7
7
9
9
Model HN50GWD-345
Voltage
No Load
At Maximum Efficiency
Stall Torque
Operating Range
Nominal V.DC
Speed
Current
Speed
Current
Torque
Output
EFF
RPM
mA
RPM
mA
g-cm
W
%
g-cm
HN345A-2217Y
6V~12V
12V
6000
75
5138
213
31.05
1.638
63
220
HN345A-1634Y
6V~24V
24V
6000
75
5055
135
40.78
2.117
65
220
* The appearance of the motor/ gearbox may be different according to the special specifications or special gear ratio, please contact us to get more detail.
Related Products

HN60GM-HN550

DC gear motor is used with OD 60mm gearbox and φ 55mm DC motor. This product is suitable...

Details

HN50GWD-HN330

DC motor Hsiang Neng HN50GWD series is flat spur gearbox, which is used with 66.5mm x 53.6mm...

Details

HN50GM-HN355

DC gear motor with model number HN50GM-HN355 is used with φ 50mm - 50.5mm spur gearbox...

Details

Drawing Download

High Torque Flat Gearbox 66.5mm x 53.6mm with 6V - 24V DC 34.5mm Gear Motor

Download

Gallery
Customer Service
Any about DC motor technical issue, please call us: +886-4-8350536
More Details
High Torque Flat Gearbox 66.5mm x 53.6mm with 6V - 24V DC 34.5mm Gear Motor | Medical Equipment Micro Motors Manufacturer | Hsiang Neng
Located in Taiwan since 1987, Hsiang Neng DC Micro Motor Manufacturing Corporation has been an OEM and ODM DC motor and gearmotor manufacturer. Its main high torque DC motors include, High Torque Flat Gearbox 66.5mm x 53.6mm with 6V - 24V DC 34.5mm Gear Motor, DC motors for dental medical equipment, worm gear DC motors with encoder, dual shaft gearbox, ebike carbon brushed DC motors, robot gear motors, linear actuator motors, treadmill belt grinder motors, miniature planetary gear motors, which are low noise, high torque, long life and high-speed, and are CCC, ROHS, CE, and UL certified.
Hsiang Neng DC Micro Motor Manufacturing Corp. was established in 1987, which is a professional manufacturer of precise DC Gear Motors and DC motors. Which are processed by the advanced imported apparatus and CNC machine, and the semi-auto production ensures the products are stable and qualified reliable.
HSINEN has been providing customers with high-quality DC motors and gearmotors, both with advanced technology and 36 years of experience, HSINEN ensures that each customer's requirements are met.