Professional DC Motor Customization
HSINEN DC Gear Motor and Gearbox Series
Custom Motor Design And Speed Reducer Motor Customization Service
Hsiang Neng with 30 years of experience in professional motor production, the firm provides professional motor customization services, which are handled by the outstanding R&D team, high-efficiency production line, and QC department.
At the same time, we can customize the design and production according to the customer's needs, from R&D and design to manufacturing and production. We insist on the high-performance and high-quality commitment only, please let Hsiang Neng assist you to create an intelligent and automated future world.

In addition to the existing motor specifications, our biggest advantage is to tailor the motor to meet the needs of the product. As long as you have any product that requires a motor / gearbox, we will do our best to cooperate with you and make your products more competitive with the custom motor, custom gear reducer, latest software, hardware and professional design by Hsiang Neng.
Motor Customization and Gearbox Customization List
RPM / Speed
Torque
Permanent Magnet
Voltage
Shaft
Motor Gears
Gearbox (Zinc Alloy / Plastic)
OD
HP
Capacitor/Condenser
Other Needs, Please Contact Us
Just only follow steps 1-8 to get your custom DC gear motor, please refer to the following information.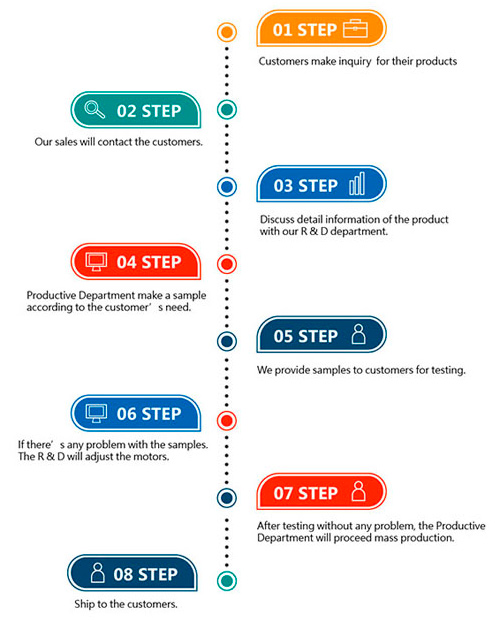 Related Products
Customer Service
Any about DC motor technical issue, please call us: +886-4-8350536
More Details
Professional DC Motor Customization | Medical Equipment Micro Motors Manufacturer | Hsiang Neng
Located in Taiwan since 1987, Hsiang Neng DC Micro Motor Manufacturing Corporation has been an OEM and ODM DC motor and gearmotor manufacturer. Its main high torque DC motors include, Professional DC Motor Customization, DC motors for dental medical equipment, worm gear DC motors with encoder, dual shaft gearbox, ebike carbon brushed DC motors, robot gear motors, linear actuator motors, treadmill belt grinder motors, miniature planetary gear motors, which are low noise, high torque, long life and high-speed, and are CCC, ROHS, CE, and UL certified.
Hsiang Neng DC Micro Motor Manufacturing Corp. was established in 1987, which is a professional manufacturer of precise DC Gear Motors and DC motors. Which are processed by the advanced imported apparatus and CNC machine, and the semi-auto production ensures the products are stable and qualified reliable.
HSINEN has been providing customers with high-quality DC motors and gearmotors, both with advanced technology and 36 years of experience, HSINEN ensures that each customer's requirements are met.