33mm Diameter Small Carbon Brushed DC Motor in 6V - 24V Voltage
HN330
DC Generator, Micro Motor, Small Motor, Electric Motors, Soap Dispenser Motor, Automatic Alcohol Dispenser Motor
DC motor in φ33 mm OD and 6-12 Voltage operating range can be adjusted, surely with high RPM, convenient in speed control, easy to install, high in starting torque, long life span advantages. According to customer diversity DC motor requirements, the gear reducer controller and encoder are available to add on HN330, it can be applied to coin exchange machine, grabber machine, powered respirator, arcade claw, power-assisted bicycle, massage tool, smart door lock and lab equipment.
HSINEN DC geared motor company has over 30 years of mature manufacturing experience, stable material quality in the shaft, motor speed reducer all from research and development design to manufacturing one-stop production line, giving you high efficiency, MIT high quality committed.
Features
Shaft: Central Shaft
Spin Direction: Bi-Direction
Carbon Brush.
Magnet Type: Rubber Magnet / Ring-Shaped Permanent Magnet.
Low Noise, High Performance, Engery Saving.
High RPM, MIT, Installation Friendly.
Customized small DC motors with all specification by your requirements.
Specification
Voltage: DC 6V ~ 24V
OD: φ 33 mm
Motor Drawing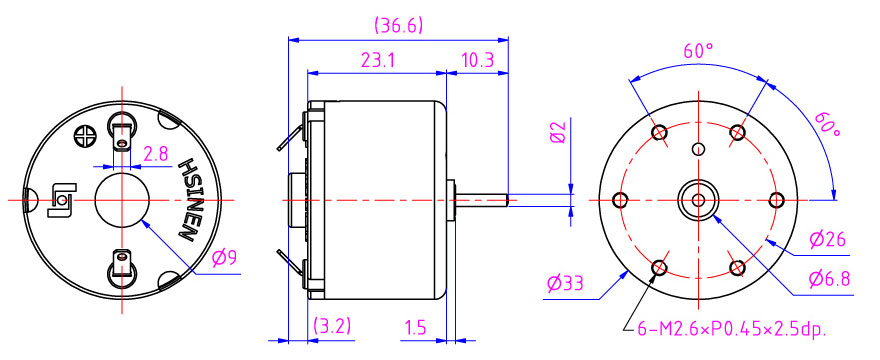 Motors Test List
Model 330
Voltage
No Load
At Maximum Efficiency
Stall Torque
Operating Range
Nominal V.DC
SPEED
CURRENT
SPEED
CURRENT
TORQUE
OUTPUT
EFF
RPM
mA
RPM
mA
g-cm
W
%
g-cm
HN330A-2414T
6V~12V
6V
7300
130
5571
434
28.04
1.604
61
200
HN330A-1924T
6V~12V
6V
4300
70
3213
260
26.69
0.881
56
160
HN330A-1634T
6V~24V
12V
6000
65
5017
226
34.56
1.781
65
220
HN330B-1250T
6V~24V
12V
5700
50
3713
166
26.76
1.02
50
90
HN330A-1640Y
6V~24V
24V
5800
70
5118
149
40.83
2.146
59
260
* The appearance of the motor/ gearbox may be different according to the special specifications or special gear ratio, please contact us to get more detail.
Related Products

HN345

Outer diameter 34.5mm with 6V-24V voltage range, HN345 with small size, convenient assembly...

Details

HN380

Dia. 38mm HN380 type the voltage is suitable for 6V - 24V, it features low noise, high efficiency,...

Details

HN210

DC motor in φ21mm dia. small size the voltage range is 6V - 12V. 12v dc motor is the most...

Details

DC Motor Drawing Download

Gallery
Customer Service
Any about DC motor technical issue, please call us: +886-4-8350536
More Details
33mm Diameter Small Carbon Brushed DC Motor in 6V - 24V Voltage Supply | HSINEN
Based in Taiwan, Hsiang Neng DC Micro Motor Manufacturing Corporation is a 33mm Diameter Small Carbon Brushed DC Motor in 6V - 24V Voltage manufacturer who's an expert in providing gearboxes (motor speed reducer) and DC motors since 1987.
Low noise, high torque, long life and high-speed with certifications from CCC, ROHS, CE, and UL, HSINEN's DC geared motors meet international safety standards. DC motors and gear motors are built with imported apparatus and machinery, and the semi-automated production ensures the products are stable and high quality.
HSINEN has been offering customers high quality DC motors and gear motors, both with advanced technology and 33 years of experience, HSINEN ensures each customer's demands are met.